Photoshop Actions are a great way of automating tasks you perform often. Photoshop Actions consist of one or more commands that play with a single click. Their ease and speed will significantly increase the speed you work with Photoshop and improve your consistency when editing multiple images. You use and record Actions using the Photoshop Actions Panel. To see the Actions Panel, navigate to the Window menu and choose Window > Actions.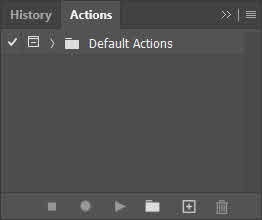 When the Photoshop Actions Panel opens, you will notice that Photoshop comes with a default set of Actions. Think of a "set" of Actions as being the same as a folder of Actions. Photoshop stores and organises all its Actions inside folders which it calls sets. You can see all the Actions contained in the Default set by clicking on the disclosure triangle to the left of the folder icon. It is important to remember that all Photoshop Actions must be stored inside an Action Set. Actions cannot be stored loosely on the Photoshop Actions Panel. Therefore, when you create your own Actions, you must either create a new folder (or Set) to save them or save them inside an existing Set.
In addition to the Default Actions that you see when you first open the Photoshop Actions Panel, Photoshop has many more Actions that you can load into the Actions Panel. To view and load the additional Actions into the Photoshop Actions Panel: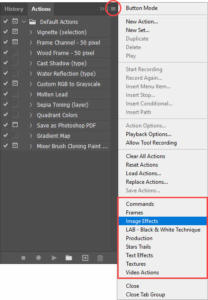 Click on the fly-out menu icon at the top-right of the Actions Panel;
Scroll down the fly-out menu to the section that contains the additional Actions;
Click on the name of the Action Set you want to open;
The Action Set will now appear in the Actions Panel.