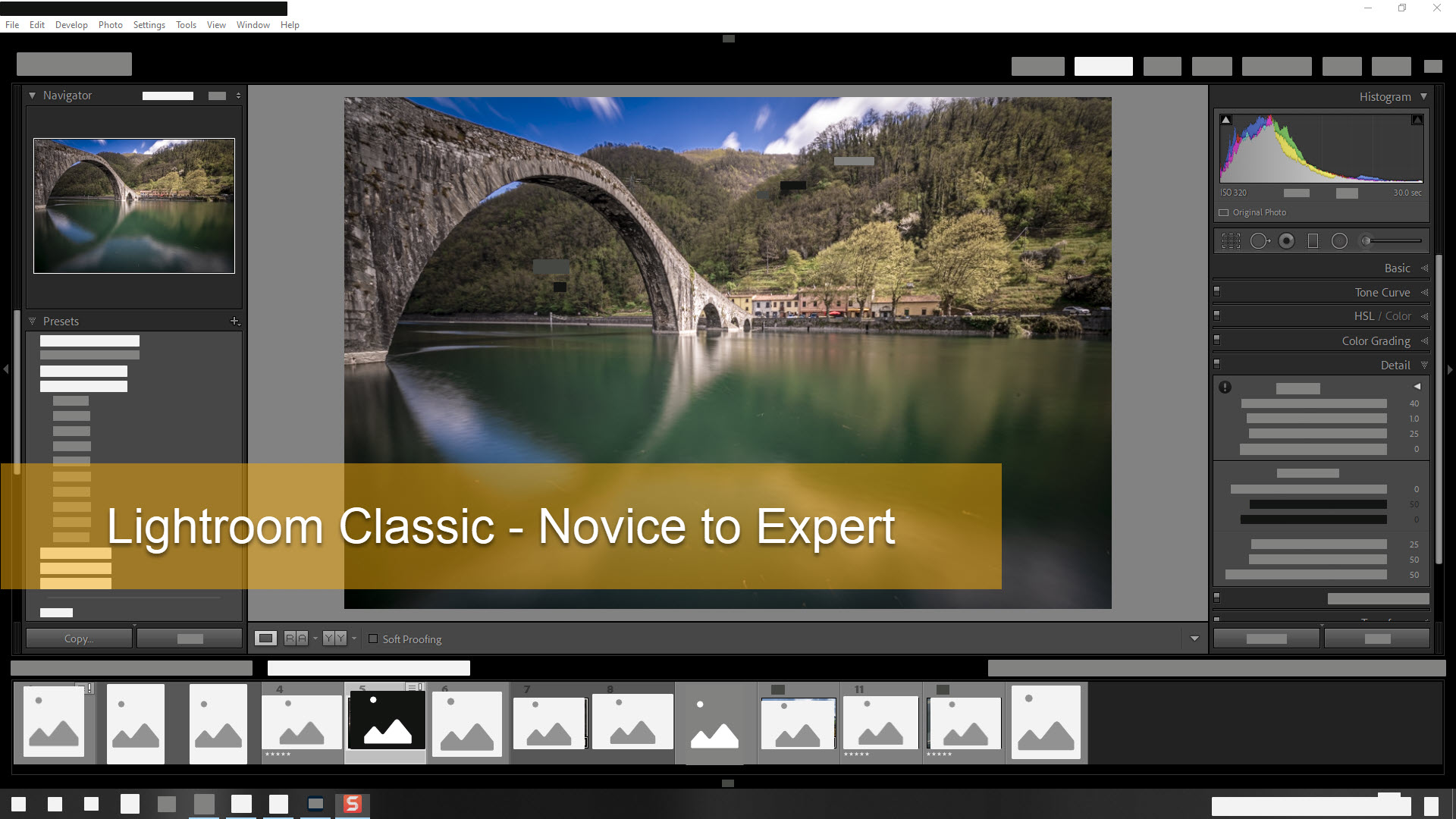 Adobe Lightroom – Novice to Expert
Lightroom Classic is the most popular photo management, enhancement, and publishing program. Lightroom Classic provides the photographer with all the desktop editing tools they need to bring out the best in their photos. Equipped with a collection of editing and organisational tools, you can add punch to colours, make dull-looking shots vibrant, remove distracting objects and straighten skewed shots. However, Lightroom Classic can be confusing and rather daunting at first, which can put many photographers off.
This 12-hour course will show you how to get photos from your computer or hard drive into Lightroom Classic, organize them into collections, and add ratings and keywords to enable smart search. Then we will explore the photo editing workspace, where you will learn how to make simple and complex adjustments, from cropping to lens corrections. Finally, learn how to export your final images from Lightroom.
At the end of the course, you will be able to: –
Import photographs into Lightroom's Catalog;
Add metadata and understand how to use the metadata for sorting and finding images;
Create and use import, develop and export prests;
Organise photos into Collections;
Perform global edits in the Develop module;
Add local and complex edits to your images;
Export your edited photos in various formats and settings;
Synchronise your photographs with the Adobe Cloud.
This is an online course
This Lightroom Classic course is split over three inputs, each lasting four hours. The course is online and hosted using Zoom. The course link and details will be emailed to you after payment has been received.
This Lightroom Classic course will take you from novice to expert in 12 hours.
Speaker
Martin Sproul

Owner of f:Stop Training

I have been taking photographs at various levels since I was 14 years of age – that's a long time. I started with a cheap and fully manual SLR camera which forced me into a steep learning curve to ensure I didn't waste every roll of film. Yes, film! I used rolls of film at first then progressed onto shooting and developing my own slides.
I am a qualified instructor and have over 8 year's experience as an industry trainer, which when coupled with my knowledge, experience and passion for photography, ensures that all our courses are meticulously designed and delivered with enthusiasm. It is always a joy to further people's knowledge and inspire their photography.