Yesterday I treated myself to taking photographs of red kites and a wee day out in Perthshire, Scotland.
Photographing wildlife, and especially red kites and other birds of prey, is not really my genre. I certainly do have an interest in wildlife but I don't have the kit to photography wildlife. Additionally, I'm not sure that I could cope with wearing camouflage clothing and sitting in hides for hour after hour. So how did I manage to get these shots of the red kites if I don't like camouflage clothing and sitting around for hours?
Red Kites' Feeding Station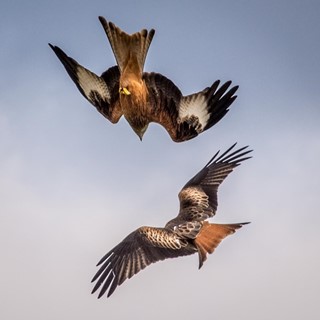 I am fortunate enough to have a red kite feeding station about an hour's drive from where I live. In fact, I have only just discovered that I have two red kite feeding stations an hour or so from where I live. This one was at Argaty, Perthshire Scotland.
It is situated on a working farm and run by both the farmer and volunteers from the RSPB. Each day 14:30, they put out food for the red kites that live nearby. There is a large and well-equipped hide which provides photographers a clear view of these majestic birds of prey.
During the winter months, the birds remain very close to where they were born and feed in large social groups. However, come the end of March, they begin to pair off and move away to their own areas to breed and raise their chicks. I must have just made it in time because there were about 30 red kites feeding yesterday. During the summer months, this drops to about half a dozen.
A Bit of Fun
I don't consider any of the images good enough to hang on a wall but I am quite pleased with them. As I said, I don't have the fast zoom lenses required for sharp images; all I was using was a 300mm zoom. But, I didn't want that to put me off from having a bit of fun and a nice day out.
Conclusion
Please don't think that unless you have hugely expensive and specialised photography kit, you can't try different genres. In fact, I think just having a go with your existing kit is the perfect way to decide if you enjoy a specific genre of photography. If it turns out that you do enjoy it, then save your pennies and buy the specialist kit.
I would recommend a day out at any of the RSPB sites where they feed red kites. It's a great photo opportunity and they are majestic birds to watch.